FPV Whoop Racing Advanced Kit 2
Noticed:
If the frame is deformed before flying, please adjust the frame to its normal shape first. Ensure that the propellers won't scratch against the frame duct and the motors could spin smoothly.
If the drone crashed or the Props are rolled into something, please push down the SA switch on the radio transmitter immediately.
BETAFPV Advanced Kit 2 – the best RTF kit for the drone starter as well as FPV pros to practice indoor. The special design of the Meteor75 Lite brushless drone, remarkable 
LiteRadio 2
 and 
VR01 FPV Goggles
, bring you unforgettable flight experience.
Special thanks for the review of Justin Davis, it is a great help for fans to make the right value choices.
Bullet Points
Due to the popularity of the Meteor series, we especially put the new meteor 75 lite into our advanced kit. It's a lightweight 1S whoop quadcopter, only weighs 28.8g, and is simple to operate.

 With the high-performance FC and motors, it 

gives pilots plenty of power and control both indoor and outdoor flying.
LiteRadio 2 is super easy to bind and operate, perfect for the beginner or experienced FPV racer. It's powered by OpenTX firmware, with 8 channels and hobby-grade gimbals.
BETAFPV VR01 FPV Goggles has a 4.3 inches 800*480px HD high brightness LCD screen

,

 specially tuned for FPV racing or Model aircraft. The ergonomic design features a foam sponge faceplate and a three-sided adjustable headband. These FPV Goggles fit your face and head perfectly.
This simple and clear user manual has all you need to get fly quickly. The FPV whoop racing advanced kit 2 is a really great Ready To Fly kit to get everyone started indoor and outdoor FPV racing, freestyle or just easy cruising.
All parts are stored in a special customized carry case

,

 which provides better protection and is easy to carry.
Meteor75 Lite Drone
For getting a cool appearance and to increase the durability, we specially redesigned the Meteor75 frame. It makes the meteor75 lite looks refreshing and unique. Also, meteor75 lite is the first drone that is equipped with Lite 1S Brushless FC, supports the Frsky D8 protocol. Featured 1102-18000KV Motor and Gemfan 40mm 3-blade propeller, pilots can get great speed and power. Comes with BT2.0 connector, lots of problems of Ph2.0 connector like voltage sag has been solved perfectly, pilots can enjoy 3-4 minutes flight with BT2.0 450mAh 1S battery. Special offers the replace frame – Meteor75 Frame.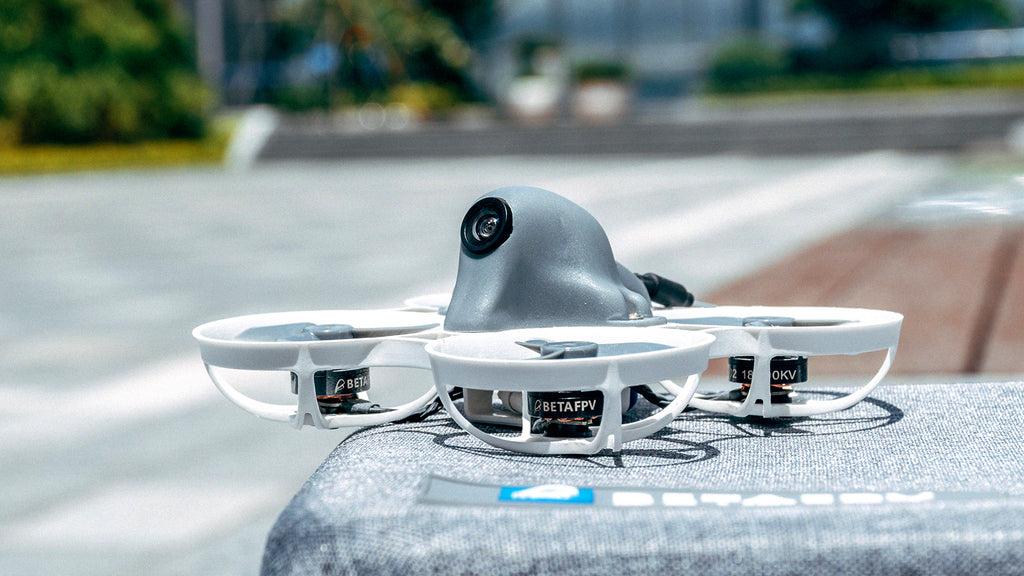 LiteRadio 2 Transmitter
LiteRadio 2 Transmitter is designed for FPV racing starters. Fully compatible with the Frsky D8 protocol and easy to use. With the hobby-grade gimbal and adopted the rubber coat, which makes it more comfortable and controllable. Powered by OpenTX firmware. The trainer function is available for this LiteRadio 2 transmitter. It is useful for FPV racing students in training. The default version is the Frsky D8.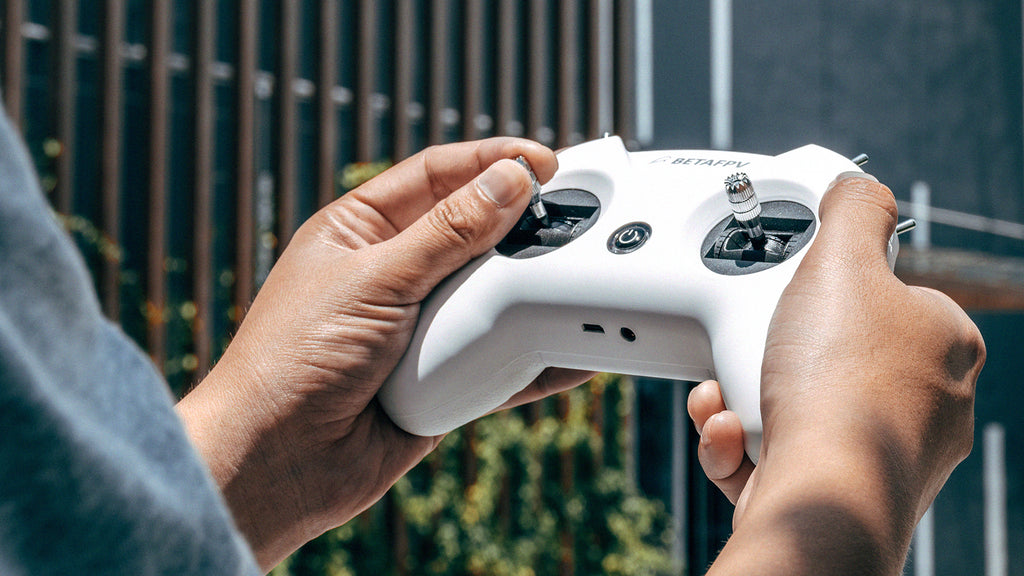 VR01 FPV Goggles
BETAFPV VR01 FPV Goggles – a First-Person-View Goggle with 4.3 inches 800*480px HD high brightness LCD which will allow you to experience a bright world without warped and blurred images. Adopt ergonomic design with a foam sponge faceplate and a three-sided adjustable headband, comfortable like cotton, and suitable for all age ranges.
Noticed: Pilots can change the OSD and VTX setting from the Goggle.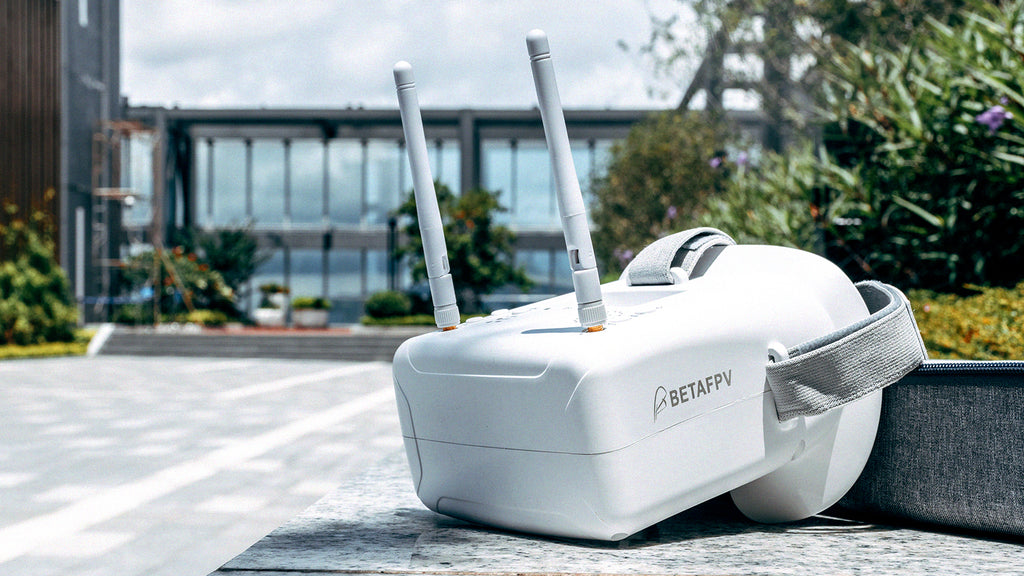 Spare Parts List
Comes with spare parts including 2 pcs BT2.0 450mAh battery, 1pc BT2.0 battery charger&tester, super portable for charging. What's more, the Batteries, USB charger and Spare parts for easy repairs. We also provided 4 props and 1 prop removal tool, convenient to exchange the props.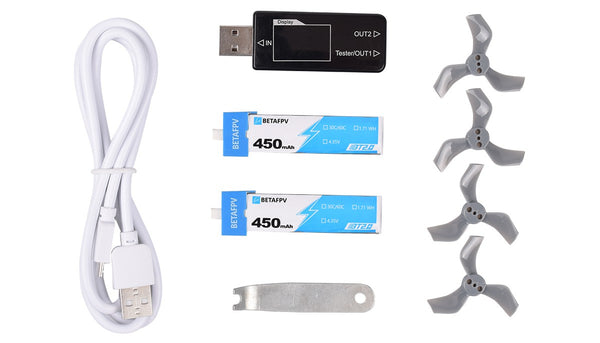 FAQ
Special thanks for the tutorial of Buddy RC, it is a great help for fans to bind the LiteRadio 2 to the Meteor75 Lite(If you have trouble on how to bind, this will help you a lot.) The video also shows how to change the video transmitter channel and power and the flight modes of the quad!
Package
1 * Meteor75 Lite Brushless Whoop Drone
1 * LiteRadio 2 Transmitter (350mAh 2S Battery Included)
1 * USB Charging Cable
2 * Dipole 5.8G Antennas
1 * BT2.0 Battery Charger & Tester
1 * Props Removal Tool
1 * User Manual
1 * Customized EVA Carry Case
FPV Whoop Racing Advanced Kit 2